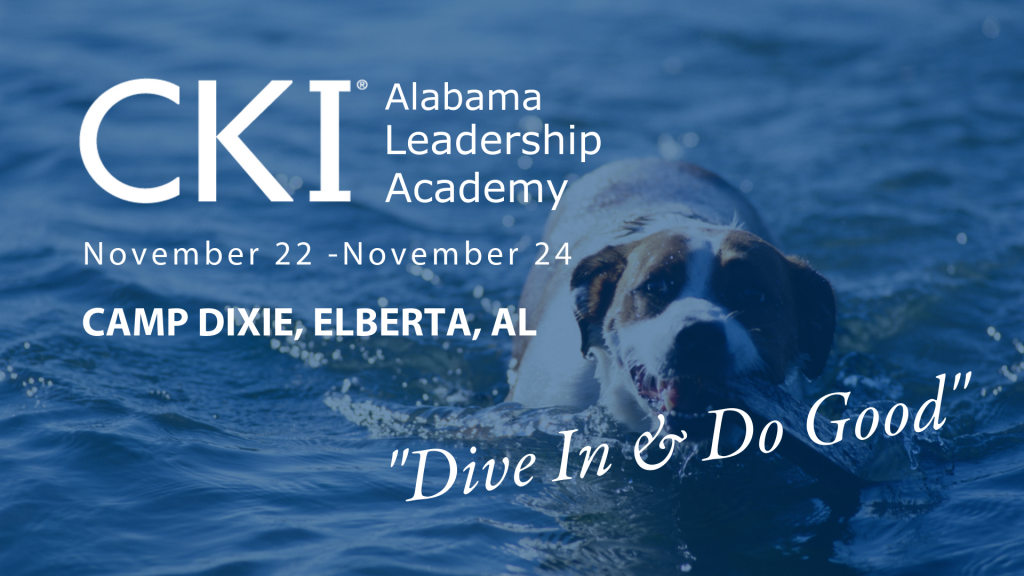 DIVE IN AND DO GOOD
November 22-24, 2019
Camp Dixie Retreat Center
29711 Josephine Drive, Elberta, AL 36530
Alabama Leadership Academy – or ALA — is the fall membership retreat for the Alabama District of Circle K International. This is a weekend of personalized leadership and team-building training with the stated goal of allowing our Circle K members to grow personally while developing their leadership abilities, while experiencing the fellowship that is such an important part of CKI.
Leadership is a crucial part of Circle K, and of life. This weekend will help you explore your leadership potential, enhance your strengths and address your weaknesses – all wile having fun in a beautiful environment.
This year we return to the Gulf Coast area at Camp Dixie Retreat Center. We have lots of exciting things in store for all of you.
Early bird registration is open now at the link below, at the cost of $110. This includes five meals, two nights lodging, a t-shirt and the materials for the weekend. Registration and payment must be received by November 10, although late registration will be available at $125 up until the event. However, late registrants are not guaranteed a t-shirt.
Camp Dixie Retreat Center is an alcohol and tobacco free facility. The Alabama District Circle K Alcohol Policy will be enforced, including provisions whereby the event policy supersedes. Make sure to bring towels, blankets, etc., to make your camp stay more comfortable.